[Baby Sitting in Chair Draped in Crocheted Lace], circa 1880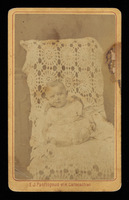 Identifier
http://dp.la/api/items/ccde948097afed03531bffe03ca9f2f4
Title
[Baby Sitting in Chair Draped in Crocheted Lace], circa 1880
Creator
E.J. Pantzopoulo et R. Carachian
Description
From Lot PF.B1 Studio portraits, 1856-1909. One hundred sixteen albumen cartes-de-visite and 82 cabinet cards. : Cartes-de-visite, 1856-1888.
Spanning roughly one hundred years, the Pierre de Gigord Collection of Photographs, with over 6,000 photographic images, forms a visual record of the late years of the Ottoman Empire and the formation and early years of the Republic of Turkey. The collection focuses on cultural and urban images, mainly of Constantinople (Istanbul), the capital of the Ottoman Empire, but other geographic areas, such as the Balkans, and other cities and towns within the empire such as Bursa and Smyrna (Izmir) are included, as are a few images from sites in Greece, Egypt, Jerusalem, India and China. The work of over 165 photographers is represented in the collection. The collection is supported by a small group of pamphlets and offprints regarding photography in the Ottoman Empire and by a small assemblage of photographic ephemera.
Series V consists of circa 950 card mounted photographs of various sizes, particularly cartes-de-visite and cabinet cards (for sterograph cards see Series VIII, Stereographs). Subjects include portraits from a wide cross-section of society including sultans, royals and pashas, dignitaries, military officers, and clerics, and families and children; occupations and types; and some sites. In addition to the single cards there are two carte-de-visite albums.
1 photograph
Source
J. Paul Getty Trust
Source
J. Paul Getty Trust
Collection
Citation
E.J. Pantzopoulo et R. Carachian, "[Baby Sitting in Chair Draped in Crocheted Lace], circa 1880,"
Center for Knit and Crochet Digital Repository
, accessed May 28, 2023,
https://digital.centerforknitandcrochet.org/items/show/13364
.